DePaul's new president, one million COVID-19 deaths and youth curfews in the Loop
and a recommendation which will send you to Back of the Yards
Hey there, reader! If you're here with us in Chicago, we hope you're enjoying this beautiful weather as much as we've been. After eight months of winter, we think we finally deserve these sunny May temps! Well, enough about the forecast — let's get to it. This week's newsletter team – Elly, Emily, Mariah, Richie, Claire, Grace V., Lily, Cam and Grace DV – have a great lineup.
Today we have a feature story on DePaul's new president, updates on FEST activities, news on the mayor's new policy and another sizzling recommendation for your weekend with some events in Back of the Yards. In addition to all that, our newest episode of The B-Side drops today! It's one of our best pieces yet, so throw it on during your commute, while you're doing laundry or walking to the store.
As the end of the academic year approaches, 14 East is preparing to host a plethora of exciting events including multiple public newsrooms, socials and of course, 14 East Live. 
14 East Live is our annual live storytelling event where writers and creators get together to share stories complete with multimedia and music all within this year's theme: Stories of Memory. Be sure to join us on DePaul's Loop campus on Thursday, May 26 at 6 p.m. for more details and to reserve a ticket, check out the link here.
Now for the news…
---
The Ninth Episode of The B-Side
By Yusra Shah with Claire Malon
Our ninth episode of The B-Side is a cultural commentary from former multimedia editor Yusra Shah. In her piece, titled, "More Than Skin Deep," Shah discusses her feelings regarding plastic surgery and breaks down some of the harmful stigmas associated with getting work done. 
Featuring insight from both cosmetic patients and professionals, Shah explains how plastic surgery is a deeply personal choice, more rooted in one's internal self-image than an external desire to look better for others. Pulling from her own experiences with insecurity, Shah concludes that plastic surgery can be a source of strength and confidence and an act of self-love. 
Story by Yusra Shah 
Recorded by Claire Malon
Produced by Claire Malon
---
Meet the Man(uel) of the Hour: DePaul's New President
By Elly Boes and Emily Soto
On May 10, DePaul announced its 13th president-elect Robert Manuel would begin his term August 1 after a nearly year-long search for current President A. Gabriel Esteban's successor.
According to a press release, the university's Board of Trustees "unanimously elected Manuel at a meeting on April 21."
During his introduction ceremony at Cortelyou Commons, the president-elect answered questions from Board Chair Gerald Beeson and later held a press conference with student media. 
"My job is to come here and find out what everybody wants to accomplish, what the possibilities are, and then figure out how to bring that to life," Manuel said of his next steps. 
After serving as president of the University of Indianapolis since 2012 — and numerous administrative positions at institutions across the country — Manuel will move to Chicago this summer to begin his appointment on August 1.
To prepare, 14 East asked Manuel to weigh in on some of the city's most common debates.
While Manuel didn't share specific plans at the ceremony, he noted affordability, diversity, equity and inclusion as well as improved shared governance as some of his top priorities.
To foster relationships between administration and students, faculty and staff, the Massachusetts-native and father of three said he plans to implement the same practices he used to facilitate engagement at 'UIndy' — including hosting public town hall meetings four times a term and creating university planning and advising groups that meet regularly. 
For more on DePaul's next president, stay tuned for updates later this week.
---
DePaul News
By Mariah Hernandez
DePaul Student Government makes a statement regarding Roe v. Wade Decision 
The DePaul Student Government Association made a statement May 13 based on the leaked Supreme Court draft from Politico on the possibility of overturning Roe V. Wade. 
The SGA recognizes the draft and its effects on people of all genders having their reproductive rights attacked. They ended their statement ensuring that DePaul will remain a university that acknowledges and respects the right to everyone's healthcare decisions and civil rights. The Reproductive Rights Town Hall will be held in person May 26 in the Levan Center Room 505 at 6 p.m., you can also join virtually via Zoom. The event is meant to give voices to the students and find out their needs and worries since the draft was released. You can register here.
Prepare for FEST with Dress for FEST and FEST Preview
FEST is in less than two weeks! To prepare for FEST, there will be a Dress for Fest event held at the Arts & Letters Patio and also a FEST Preview in the Lincoln Park Student Center Atrium. On the Arts & Letters Patio you can expect to find FEST merchandise from the DePaul Activities Board. At a FEST Preview you can see performances from student bands and performers. The lineup includes 404KRAZ, Any Two Words and Minivan. The main event FEST, will be held May 27 on the Quad from 4 p.m. to 9:30 p.m. You can read more about the events leading up to FEST here and here. 
Robert Manuel announced as DePaul's 13th President 
DePaul's 13th president, Robert Manuel was announced on May 10. On June 14 of last year the school announced that current President Gabriel Esteban will step down in summer 2022 after five years of presidency. In Esteban's personal statement he explained that he wants to spend his time with his wife Jo but will continue to serve others and his community. Manuel previously held the position as president at the University of Indianapolis since 2012. He will take his place at DePaul as president on August 1. You can read the press release here.
Lastly, here is your weekend sports update (May 13 to May 15):
The softball team lost against Villanova 0-1 on Friday.

The softball team lost to the University of Connecticut 2-6 on Friday.

The men's track and field team placed fifth in the Big East Outdoor Championships on Saturday. 

The women's track and field team placed seventh in the Big East Outdoor Championships on Saturday.

---
Chicago Headlines
By Grace Vaughn
Alderperson suspects lack of AC caused deaths at senior living facility – Three elderly women were found dead on Saturday at the James Sneider Apartments, a senior living facility in Rogers Park. Ald. Maria Hadden believed the lack of air conditioning in the building was to blame as multiple residents complained about the heat four days prior to the incident. She expressed her frustration with those managing the complex since they received public funding to keep residents safe. The medical examiner's office has yet to determine the cause or manner of the deaths. Tom Schuba and Mohammad Samra of the Chicago Sun-Times have the story. 
Minors banned from Millenium Park following fatal shooting – After a violent weekend, Mayor Lori Lightfoot has announced a new policy aimed to prevent large crowds of teenagers from creating chaos in public spaces. All unaccompanied minors are banned from visiting Millennium Park after 6 p.m. on Thursday through Sunday. The decision comes after 16-year-old Seandell Holliday was fatally shot at The Bean on Saturday night. City officials warned that the new policy would be strictly enforced, but it is unclear what legal power will be relied on to implement the ban, William Lee, Rosemary Sobol and Gregory Pratt of the Chicago Tribune report. 
Chicagoans rally for abortion rights in Union Park – Planned Parenthood's event in Union Park brought upwards of a thousand people together on Saturday morning as they rallied for abortion rights. Protesters continued the fight by marching through the downtown area. If the Supreme Court overturns Roe V. Wade, many Illinois providers are predicted to see an influx of patients due to the likeliness of surrounding states to restrict or ban abortion access. Read more from ABC7 Chicago here. 
Grocery store expands in West Humboldt Park to help with food desert – West Humboldt Park, an area struggling with access to fresh food, is getting a new grocery store. Central Park Produce, a small business that has been open for over 35 years, will be moving across the street and filling an old CVS. The property will provide a larger location for the market with hopes to help stop the community's food insecurity. Mina Bloom of Block Club Chicago has the details.  

---
National Headlines
By Richie Requena
Biden marks the approaching milestone of one million U.S. COVID-19 deaths – The White House flew their flags at half mast last week to commemorate the approaching number of one million deaths of COVID-19 in the U.S.  "One million empty chairs around the dinner table. Each an irreplaceable loss," said President Biden. The U.S. has recorded 82 million cases of COVID so far. Dustin Jones of NPR has the story. 
Buffalo shooter could be prosecuted under the Emmitt Till antilynching act – Thirteen people were shot in a racist attack in a supermarket in Buffalo, New York on Saturday. Eleven of the victims were Black and targeted for their race by a single white shooter. Federal prosecutors have already categorized the attack as racist and a hate crime, and the new antilynching act has a penalty of 30 years in prison. NPR New Hampshire has the story. 
Inflation at its highest in 40 years – The consumer price index, a broad-based measure of the price of goods and services, went up 8.3% since last year. This big a leap in the costs of goods and services hasn't been around since the summer of 1982. Inflation has been one of the biggest threats to pandemic recovery, and since last year the economy has seen its single-year growth since 1984. Jeff Cox from CNBC has the details.
The United States will be a host of the rugby world cup – The United States won their bid for the rugby world cup for the men's and women's world cup in 2031 and 2033 respectively. The women's team won it all in 1991, and the men's best performance was winning a single game in 2011. Amy Morgan from NPR has the story here. 

---
Hey, Check This Out!
With Featured Columnist Emily Soto
Welcome to your recs, everyone!
The past week has been so busy, I had no clue what I was going to suggest for you all today. But it wasn't until this morning while I was working on another story, that I found a great recommendation for some upcoming events happening at Star Farm Chicago.
Star Farm Chicago is an urban farm in Back of the Yards that not only grows and sells produce for their community, but also engages with them to promote health, safety, food education and more through their programs and partnerships.
This Sunday they will be hosting their Spring Brunch from 11 a.m. to 3 p.m. It's a chance for you to visit the farm and enjoy a delicious breakfast made with locally sourced ingredients from Star Farm and other small businesses. There will be charcuterie boards, and fresh baked goods and much more. Plus, what brunch would be complete without the mimosas? Star Farm will be sure to include those on the menu too!
To add to the ambiance, there will be live music and more surprises to complete what will be a lovely day.
But this is a ticketed event so you'll have to visit their marketplace to purchase. Don't wait until it's too late!
If you can't make it to the brunch, this won't be the only event of the summer. There are still two more brunches planned along with other events such as a Paint 'n Sip or Ice Cream and Tacos Social. By attending their events, you are directly supporting the work they do.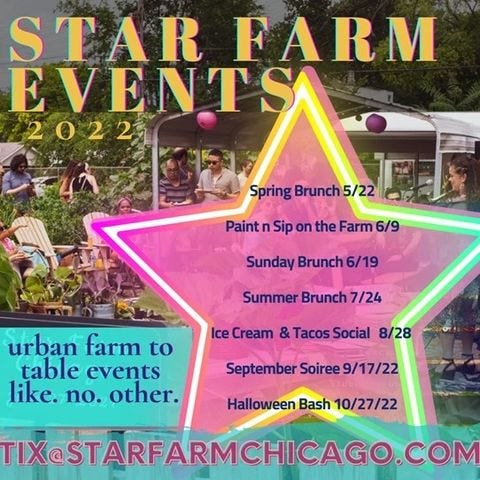 And if you're interested in the work that Star Farm does throughout Chicago, keep an eye out for my full length feature that will be published on our site soon!
That's all for this rec, thanks again for coming back every week! 
---
Resources
Need resources regarding warming centers, rental assistance, COVID-19 testing and vaccines or mental health? Check out our complete list here. 
---
That's all for today. Enjoy the warm weather and we'll see you next week!
The 14 East Newsletter Team