A weekend of police violence, closed bars and federal agents
And a reading on celebrating Blackness
Hi all,
It's your newsletter crew for the week -- Mikayla, Grace and Cam -- here to present you with some updates from the past week. This past weekend hasn't been slow for news, and we worked to summarize some of the most pressing stories from the city. 
Today, we talk about the continued protests across Chicago, including last Friday's #DecolonizeZhigaagoong event in Grant Park. 
14 East is seeking personal accounts from DePaul University students who attended the protest on Friday for a developing story. If you wish to share your experience, please fill out this Google Form. 
You can also send information to 14 East directly via email at 14east.magazine@gmail.com OR send us encrypted messages via Signal at (872) 215-1712.
What's happening in Chicago?
On Friday, police attacked organizers at a Black and Indigenous solidarity rally in Grant Park. Teen activist and incoming DePaul University freshman Miracle Boyd had her tooth knocked out after a policeman approached her and struck her in the face, which was caught on video by a bystander. Later in the protest, after she had spoken at the initial rally, she began to record on her phone when she saw a protestor being arrested and her friend having an argument with the police. 
"The way that I was recording, I think that he tried to smack the phone in my hand and he hit me at the same time, and the phone hit me in the mouth, and it knocked my tooth out and I was bleeding," Boyd told Block Club Chicago. 
The Black and Indigenous solidarity rally called for the Chicago Police Department to be defunded, as well as decolonize Zhigaagoong, a movement to restore Indigenous lands in Chicago. According to The Triibe, Zhigaagoong is a "movement to restore native lands to the Indigenous people who lived in Chicago before they were forcibly removed by the U.S. military in 1833." 
The rally started in Grant Park and moved south towards the Christopher Columbus statue. Some protestors had come ready with gear with the plan to take the statue down. Kelly Garcia, a recent DePaul grad and a freelance reporter who works with The Triibe, told WBEZ today that the rally started peacefully. "As we kept marching toward the statue, it was very peaceful. All the opposition came from the police," said one attendee. "One cop would be trying to beat on a protestor. Another cop would pull him back," Patrick Romano, another attendee, said. 
Activist Anthony Clark launched a GoFundMe page to help fund Boyd's mental, dental and medical treatment. After being approved by GoodKids MadCity, the activist group that Boyd is a part of, $84,000 was raised in less than two days. Boyd said she plans to donate any leftover funds to a foundation that helps Black and Brown women who have experienced trauma. 
In a tweet on Saturday, Chicago Police Superintendent David Brown addressed the violence and said that the police are "obligated to act" when "city property is being damaged " or "violent acts" are being committed. He continued to say that it is the police's "oath...to uphold the law."  
This week around 150 federal agents are expected to be deployed to Chicago by Homeland Security. The Chicago Police Department does not currently have a comment on this, according to the Chicago Tribune. This comes after U.S. Customs and Border Protection agents in unmarked vans detained protestors in Portland, Oregon, last week. Mayor Lori Lightfoot said today that Chicago does not need agents unlawfully taking people off the streets. President Trump's recent tweet highlights Chicago, New York and Philadelphia. Earlier, he wrote, "Look at Portland, where the pols are just fine with 50 days of anarchy. We sent in help." 
In an effort to reduce the number of new coronavirus cases, Mayor Lightfoot announced today that indoor bars will not be able to serve alcohol starting Friday. Indoor fitness classes will also only be allowed to have 10 people per class. Facials and shaves will also be prohibited because those services require people to take off their masks. 
As of today, there are 1,173 new known coronavirus cases, bringing the state total to 162,748 since the start of the outbreak. The state reports six more deaths, with a total of 7,301 deaths from complications of the coronavirus. 
Other Headlines In Chicago
What's happening at DePaul?
In response to the altercation between Miracle Boyd and the CPD officer at Friday's protest, DePaul's Black Student Union released a statement Saturday evening. 
In the statement, the union denounced the violent actions towards Boyd, offered her support and called on DePaul to break all ties with the CPD. The union gave Provost Salma Ghanem 24 hours to respond, which she has not yet done.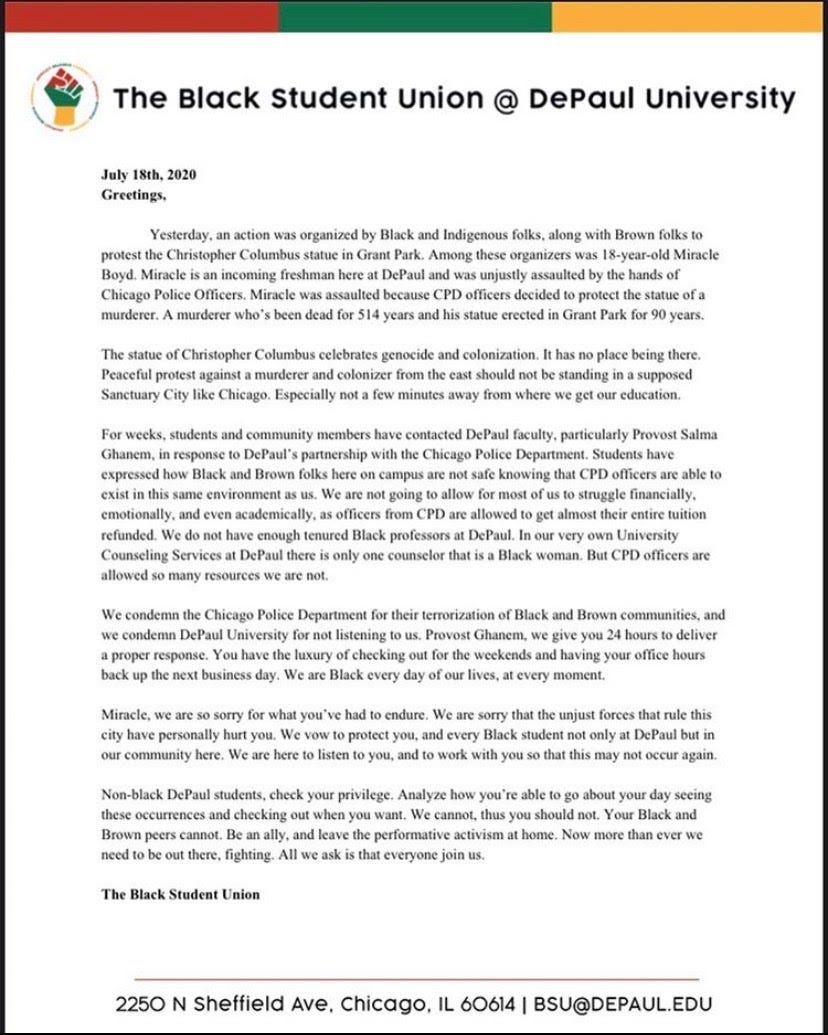 BSU President Keith Norward expressed his desire to support Boyd as she prepares to attend DePaul this fall and remarked on how what happened between her and the CPD was a side effect of bigger, more structural issues. 
"I think it's more clear than ever, how that the situation with Miracle is a direct result of DePaul not cutting their ties with CPD," said Norward. "I can't imagine Miracle wanting to come to DePaul knowing that we still have that relationship. Knowing what just happened to her, and knowing that it can possibly happen again, right on her campus, which is supposed to be safe, which is supposed to be a second home." 
BSU is one of the many student organizations that are calling for the university to end its partnership with the Fraternal Order of Police and enact the Ban the Box initiative, which would see university admissions curbing the practice of asking applicants about their criminal record. BSU specifically calls for the university to invest more funds into Black cultural studies and programs. 
In response to Norward's comments and the statement released by BSU, Boyd expressed her thankfulness for the support of the union, and while she is happy to be attending DePaul this fall, she supports students' demands for the university to cut all ties with CPD.
"There should be no police, in any form of educational presence there is, there should be no police in any educational practice, place, anything like that, because like I said once before, there is no real proof," said Boyd during a press conference earlier today. "There is no data, there is no numerical data that proves police keep communities safer. We just keep giving money to police."
This is a developing story. Check back with 14 East's social media and website for details throughout the week.
If you don't want to read the news, here's the headlines to know.
"With the federal government, they won't even identify who they are," Ted Wheeler, Mayor of Portland, said in an interview with NPR. "We don't know why they're here. We don't know the circumstances under which they're making arrests… to the point where even the U.S. attorney here in the state of Oregon is calling for an investigation, wondering, where was the probable cause to pull these people off the streets into unmarked cars?"
Your Educational Resource of the Week
Each week we will be using this section to highlight a different educational resource on race. It may come in the form of literature, film, art or anything that Black scholars and activists are centering at this time. 
This week's educational resource is I'm Still Here: Black Dignity in a World Made for Whiteness by Austin Channing Brown.
In her book, Channing Brown describes the process of learning to love her Blackness in an oppressively white world and what it means to actively deconstruct white narratives and celebrate and value Blackness. 
You can find this book online or in person at a branch of the Chicago Public Library or at Semicolon Bookstore and Gallery, an independent Black-owned bookstore in Chicago.
Mental Health Resources
This document is a resource for Black people experiencing racial trauma. This master list includes specific resources as well as protesting tips and donation links. 
Where to Access Food in Chicago
Free Resources for Non-Black Allies
Where you can donate
Supports trans and gender non-conforming people of color
Supports Black trans individuals
Supports the mental health of Black trans individuals
Supports autistic people of color
An art-based restorative justice organization
Supports the push for CPAC, the Civilian Police Accountability Council.
Provides resources to underserved communities
Supports survivors of police torture
A community-based organization representing Chicago's South Side and South suburbs
Supports the Black workforce
Provides books to imprisoned youth
Provides fresh produce to low income households
That's it from us this week. Stay safe, stay healthy, and if you're interested in sharing your story from July 17, get in touch.
Until next week,
Mikayla, Grace and Cam